This is something that I never imagined a girl turn around to me and say. I never imagined it'd ever go away with a girlfriend actually. In keeping with my trend of blogging when it's almost too late, I'm talking about when I went to Disneyland Paris with
Ciara
in March.
I'd love to pass the blame on
not
writing about this sooner to the hotel, because I brought my Mac but they didn't have
Wi
-
Fi
. I know, pretty crazy but true. I can't really do that though, because I've had plenty of chances to do it since but sure, I'm doing it now, unless I stop typing and save this as a draft for months or delete it. I'm going to do that though, I promise.
I wrote down what we did each day, so I wouldn't forget if the chicken came before the egg or visa
versa
. Dad always does that on holidays and it looks like I'm going to follow suit.
Friday
We left my house at 4am, on very little sleep and the first question the taxi driver asks us is; "Were you kicking a ball around there?".
Haha
, what? I said I wasn't and he insisted that someone else must have been kicking a ball against a wall. At 4am. Weird person at the wheel. Got to the airport and went to check in. While in the queue, a man took our printed out tickets and got our boarding cards. It didn't have us sitting together, so I tried to change that when we checked in our bag. No dice. Lame. It wasn't going to be a long flight, though.
A couple of things on the place pissed me off, though. First off, there were people in our seats. A family, which when I tried to change our seats, I was told the reason I couldn't change them is because the other seats that were together were reserved for families. We asked about where we should sit and were given seats together behind the row we were meant to be in. Great. Nope, some family came and started looking at us and then their tickets. I asked them if these were the seats they'd been assigned and I was ignored and then they seemed annoyed that we hadn't moved yet. This really pissed me off. The guy most
definitely
heard me. We looked for other seats and couldn't really see any. So we sat at the front in Business Class. Cheeky, I know but it looked like the rest of the flight was full. Needless to say when the attendant came through the curtain, she looked at us like we were aliens and just told us to find seats in Economy, instead of helping us find seats like a decent person would. We ended up sitting a good bit away from
eachother
inbetween
people that weren't together. That meant that we could have been given seats together in the first place.
Argh
.
I watched an episode of Chuck on the plane. The guy beside me seemed to be watching too. Got a Blueberry Muffin too which calmed me down.
Ciara
was apparently sandwiched between the two biggest people in the world. Leave jokes in the comments,
haha
. This is where, the awesomeness of having gone through a travel agent kicked in. All transport, from the airport to the hotel and from the hotel to the airport was already organised and paid for.
We checked in after a bus ride to the Santa Fe. It's the cheapest of the hotels in the Disneyland Resort. I have to admit, as
Ciara
had stayed in the lush 5 star hotel above the entrance to the park, I was a little worried that she might be let down by the hotel but she didn't seem to be at all. We settled in and because it was really early, like 11am or something, we decided to head to the parks. Pretty much the main reason I wanted to stay in the Disneyland Resort was because there were shuttles to and from the park. I've never organised anything to do with transport, getting from A to B on a trip before. Glenn do all that stuff for Boston and Gav's been on most of the other trips I've gone on.
We decided to hit up the Walt Disney Studio Park first. I've never been there. I had been to Disneyland Paris before on a school trip in 4
th
year, but we just went to the main park. I was pretty stoked on this. The first thing we went on was The
Twlight
Zone Tower of Terror. First thing I thought was, how good was the show, The
Twlight
Zone and why haven't I watched in in years. The second was, I can't believe we're here. The ride itself was slightly different to the one in America but just as good. I screamed. I pretty much screamed on everything because screaming is fun. Next up was the
Rockin
' Roller Coaster. Listening to
Aerosmith
while doing corkscrews is a pretty good combo. There was only a 5 minute wait for it
aswell
, pretty mental.
Then we went to a couple of shows. The
Armageddon
Special Effects show and an action stunt show. I enjoyed the Special Effects show but I was thankful that I brought my glasses because I was reading most of what was going on while the audio was in French. I know it seems ridiculous but I really wish everything was in English. Obviously that's unfair to everyone that doesn't speak English, do throughout the trip, I felt that some of the magic was lost by having to hear lines in French first, then English or having to read English subs while being distracted by a language I can't fathom and think sounds terrible. The Stunt show was awesome. Car stunts, guns and fire. Tough guy stuff. I actually even wrote about it in my Media Analysis exam when talking about stunts in general while answering a question on the camera never lying. Basically saying that editing and camera angles make stunts look a lot different than they do to the naked eye.
I'm not sure when we ate lunch on Friday but it was crap. We went to a place that did crappy veg stuff. Actually, I'm not sure we did go for lunch, I didn't write it down and look at me, completely lost.
After that we went to see some Animation stuff, or so we thought. We went to a show called
Animagic
. We both thought it would be all about the animation history of the films Disney makes or something similar. It wasn't at all but it was still really good. It was basically Mickey and Donald drawing at the start, Mickey leaves and leaves behind a key to a door. Donald takes the key, enters the door and the fun begin. There's characters from most of the animated flicks, singing songs from them and then there's giant pink elephants, which was weird.
Cinemagic
was next on the list, and that was awesome. It was about someone getting sucked into the cinema screen and appearing in different films, not just Disney ones, it's difficult to explain but it was probably the best show of the trip.
We were getting pretty hungry at this stage but we simply had to go on
Rockin
'
Rollercoaster
again before heading to the Disney Village. We ate in Planet Hollywood, where
Ciara
introduced me to Spinach Dip. Oh my. It tasted so good.
Ciara
had nachos and for main she had a Caesar salad. I had spaghetti. It wasn't great but they didn't have anything else veg on the menu. They also don't mark veg dishes of there. They mark meat free dishes, which means that the fish dishes are marked
aswell
.
After that, we did some shopping around the Disney Village and went back to the hotel. Awesome day.
Saturday
Disneyland Park time. Honey! I Shrunk The Audience was up first and thankfully, you got headsets so that you could have the show in any language you wanted. Good thinking, Walt. We then entered a dark tunnel, which I seriously thought was the queue for a ride but it was just a weird underwater sea thing to walk through.
Ciara
was under no such illusions and as such didn't feel cheated when we reached the end and there was no coaster.
No bother. We went on Space Mountain next. It really kicks the shit out of the Space Mountain in Florida. Like seriously, the one in Florida can suck it. Paris is where I want to be launched into space from. So good. As if things couldn't get any better, it was Star Wars time. Such an old style ride but it's still so good.
We
definitely
had lunch on Saturday. I remember and I wrote it down too. The lunch itself wasn't amazing but we had it from a
restaurant
that was in
Videopolis
and watched some of Steamboat Willie before heading back out.
Alice's Curious Labyrinth was next on the agenda after finding out the Mad Hatter's Tea Party was closed for
maintenance
. The downside of going off peak. It was actually pretty packed, but I suspected that, with it being Saturday and the weather being so good. I was so surprised that so much space was dedicated to the labyrinth. It was huge and had loads of stuff in it, mostly different photo ops, including a pretty big model castle that you could go into and head to the towers. I enjoyed it a lot and didn't really think I would.
The longest wait of the trip was for Peter Pan's Flight. It said 45 minutes but it had to be longer. Then we went on Snow White and
Pinocchio's
Voyages which are all very similar. They're like a visual journey through the important scenes of the film and the blanks are filled in with a voice of the PA. Which was in French and my memory wasn't serving me well so I was pretty much lost.
The heat was really taking it out of us and because we had the freedom of 4 days, we decided that we'd use our Fast Pass for Buzz
Lightyear
and call it a day and do the other two lands in the park tomorrow. The Buzz
Lightyear
ride was is a moving shooting gallery where you fight robots and the evil
Zurg
. It was deadly. We got
individual
scores and I won't embarrass
Ciara
by revealing them. OK, I will. I pulled in a decent 120,000. She got 20,000. Thrashed.
We headed to the Disney Village for dinner once again. Saturday wasn't a good day for food at all. We went to the
Rainforest
Cafe, which I was pretty stoked on. Mostly stoked because when I went to the one in America, they had the greatest smoothies of all time. This one had no smoothies. Fucking lame. We shared Onion Rings and Garlic bread to start and both got the Veggie burger. The starter was good, especially the BBQ sauce that came with it but the burger wasn't up to much.
Disappointing
.
We went back to the hotel and watched the newest version of Alice in Wonderful.
Meh
.
Awesome day, though. The bad food and poor movie couldn't take that away.
Sunday
Part two of Disneyland Park. It wasn't quite as hot and certainly wasn't as packed. Off peak time holidays
FTW
. We started off with the Indiana Jones
rollercoaster
and then got lost in some caves for awhile. It couldn't see at all in the caves and was sure I would walk directly into a wall so was walking like a granny through them.
Next we went on Pirates of the
Caribbean
. Another older ride that holds up really well. Being a pirate would have been pretty amazing. Before lunch was went though Aladdin's Secret Passage, again, jokes in the comments, which was a walk through the story of Aladdin. What a film. How good was the game
aswell
? Killing snakes with apples. Amazing.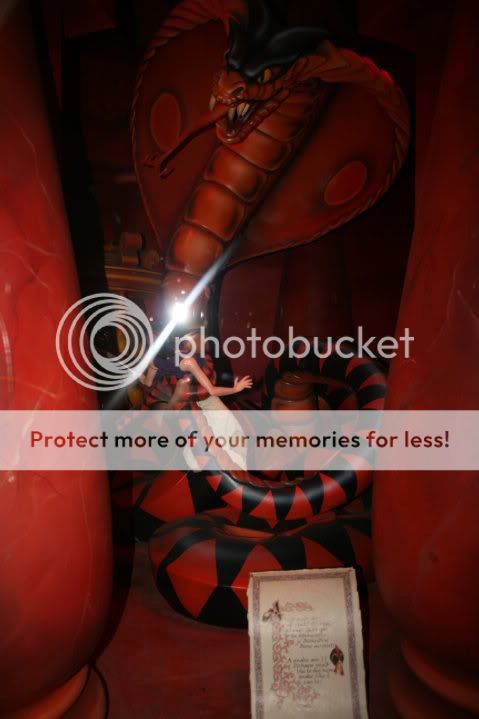 Best lunch of the trip was the
Mexican
lunch we had on Sunday. Mexican is the best food. Nachos and a
Mexican
salad.
Ciara
got Nacho shaped chips instead of the salad. This was my second salad of the trip and probably my second salad of the year.
We got the Fast Pass for Big Thunder Mountain and headed to the Phantom Manor. It was very different to the one in America, thought it was better. Ridiculously horrible mangled ghost/demon dog in it.
Ciara
wanted to go on Space Mountain again. Of course, there were no
arguments
from me. Then we went back to go on Big Thunder Mountain before heading to Main Street to browse.
Dinner time again and once again, we headed to the Disney Village because there was no reason to go anywhere else really. This time we went to Annette's Diner and it was the best meal of the trip. So good
infact
, that if we'd eaten there on Friday night, we'd have probably gone there for the rest of the weekend. We wanted to get dessert because they had some
delish
looking Ben and Jerry's desserts so was got veggie burgers and shared a side of garlic bread. The burger was up there with the best I've ever had. I also had a vanilla Sprite to drink. It was class. I actually forget what I had for dessert, I'm thinking apple crumble with some Ben and Jerry's ice cream but I can't be sure.
Ciara
got a sundae.
After that, we got the shuttle back to the hotel and watched the Little Mermaid on my Mac. I didn't plan out these
Disney
related movie nights, I just happened to have them downloaded already. Worked out nicely, though.
Monday
On Monday we had a later flight so we were able to go to the Studios Park and do the last couple of things so that we could say that we got everything done that we wanted to/could have done.
First up was Crushes Coaster. This always has ridiculously long cues and it was because it was A) the coaster with the lowest height restriction and B) it had a pretty slow turnover of getting people out of the carts and new people into them. This was actually the longest wait of the weekend with an hour wait time but I reckon it was worth it. The coaster spun around instead of their being any loops or corkscrews and was fast enough. Now, I'm not saying it was even close to Space Mountain but it was most
definitely
worth going on. We then went on a Cars themed ride that was pretty much the Mad Hatter's Tea Party before heading to a show that I can't think of the name of. Yeah, I didn't write down anything that we did on Monday so I'm glad it was the day with the least amount of park time, for the purposes of the
accuracy
of the blog. It was about the creation of Disney characters and went into detail about the creation of
Mushu
from
Mulan
, which was played by Eddie Murphy. He basically was going to be two dragons and a host of different kinds of dragon before he became what he was in the film. It was pretty interesting.
We finished off the trip to Disneyland by going on the
Rockin
' Roller Coaster again, twice. So four times in total. Got some food before going back to the hotel to get the bus to the airport.
I behaved myself on the shopping front. I usually buy loads of stuff I don't need for the sake of it. This time, I only got a couple of things that I don't need for the sake of it in a Toy Story tee, some pens and toy of Mike from Monsters Inc.
I got the boarding passes myself this time and was able to have us sitting together. Watched another episode of Chuck, which I'm now all finished and am looking forward to Season 4 of, before we landed and she got collected by her Dad and Mum collected me.
Seriously awesome trip and I wouldn't have wanted to do it with anyone else.
I'm going to go find
Ciara's
Facebook
album and put photos into this. I think they're all from the Saturday and Sunday, though.